Looking smart and being active is the biggest blessing for every woman. Each woman wants a happy day with lots of positive energy and attitude. To bring these joyful days in their lives, some women tend to indulge in sports activities. Like any other occasion, here ladies always want stylish and trendy outfits because no matter what the occasion is, a woman always searches appropriate outfits without compromising the style and trends.
Unlike old days when you do not have many options for activewear and you have to design your already owned clothes in a way to look ready for the game, now you have plenty of options with better technology and advanced comfort.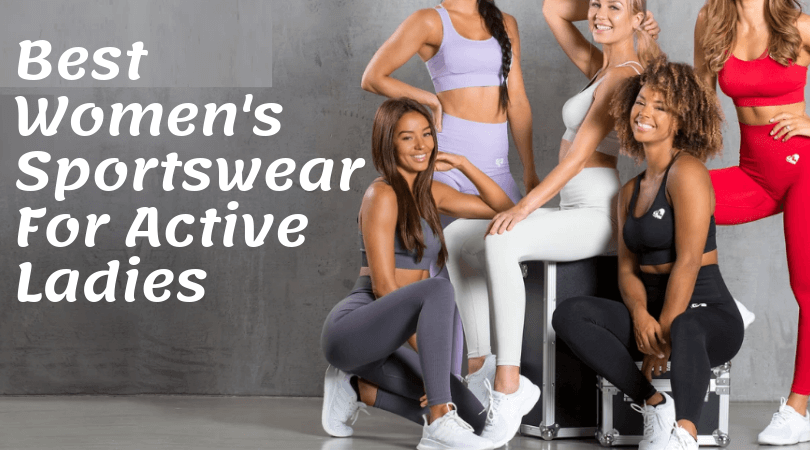 Not everybody joins sports happily, for some, it is an obligation. Getting new fashionable clothes may turn this obligation in fun activity when you have opportunity to show your class and fashion sense to others. This may excite ladies and they would start looking forward to getting their hands on some fashionable active-wear brands.
Some ladies may think that how to spot the best sportswear brands? How to choose good sportswear clothing? But no worries from today as we are here with complete guide of sportswear clothing. Apart from styles and trends, there are some other properties as well which should be observed in good sportswear clothing.
Comfort
Yes, your active-wear should be comfortable. Sporting does not mean that your comfort is at stake. Your outfits should make you calmed and relaxed and it is only possible when it is comfy and you do not struggle with it. To get comfy outfit, always select the right size, neither too tight nor too loose. It is always suggested that choose active wear which is stretchable, so it can support you in each move.
There are some brands like Holloway sportswear which are known for their comfortable outfits. Their sportswear is made up of fabric which truly helps sportswomen to be active and energetic throughout the game. Hollow way Sportswear truly understands the needs of ladies in sportswear and it is always searching ways to fulfill it.
Technologically Sound.
It may be weird for some people to hear the term of Technology in sportswear wear, but actually it is not that surprising. Now each passing day every activity, hobby or business is using technology to bring efficiency and proficiency so do sportswear. Now they are using different technologies to produce those outfits which have ability to winking moisture your body. Just looks at the Augusta sports wear's products they are too technologically sound that they offer moisture-wicking and heat sealing products. If you do not believe, you can experience it by using Augusta Sportswear 5095 Adult Wicking Mesh Sport Shirt or Augusta Sportswear 4000 Deuce Dress, the smartest and comfortable clothes, which can urge you to perform your best and win the game. We always recommend you to buy this type of sportswear to perform well.
Durability
Yes, your sports passion is not a story of a day or two. You once invest in good activewear, now you want it to use it a longer period of time, but some give up after few cycles which may upset your budget and leave you heartbroken. Always choose your activewear wisely, do not let your money be wasted. Some good women sportswear brands like heritage sportswear always offer durable clothes, which would be the real blessing as you would not have to purchase same outfits again and again.
Design
The comfortable and stylish design is a must for active wear. Being a sportswoman you always in a spotlight and your fashion taste is always being judged, so do not take your fashion needs lightly and always approach authentic companies like s&s activewear for your outfit. Another brand which is famous for its stylish designs is heritage sportswear. They always design clothes while considering the latest fashion trends and their designs always take as a fashion icon.
We have tried to mention all the important factors to buy the best activewear. There are plenty options out there from which you can choose as per your budget and requirements. Always choose the best-suited option because your game greatly depends on what you wear, how do you wear. One should never compromise on it.