If you are looking for comfortable and affordable work pant then we have good news for you.
Dickies Presents 874 work pant, which has distinct features and durable material. Let us look
some exclusive benefits, which only Dickies 874 offers.
Affordable
No matter how much a pant is appealing for you, it is beyond your reach if you cannot buy it. So getting any good apparel, it must fall in your budget lines and we have good news for you. You can easily buy Dickies 874 because Dickies always have a policy for the best affordable price for maximum people. You love it and Dickies is ready to provide it within your pocket limits. You can easily compare the quality of products and prices of other brands with Dickies and you will always conclude that Dickies is offering irresistible offers. So do not wait longer and just start checking out Dickies products.
Durable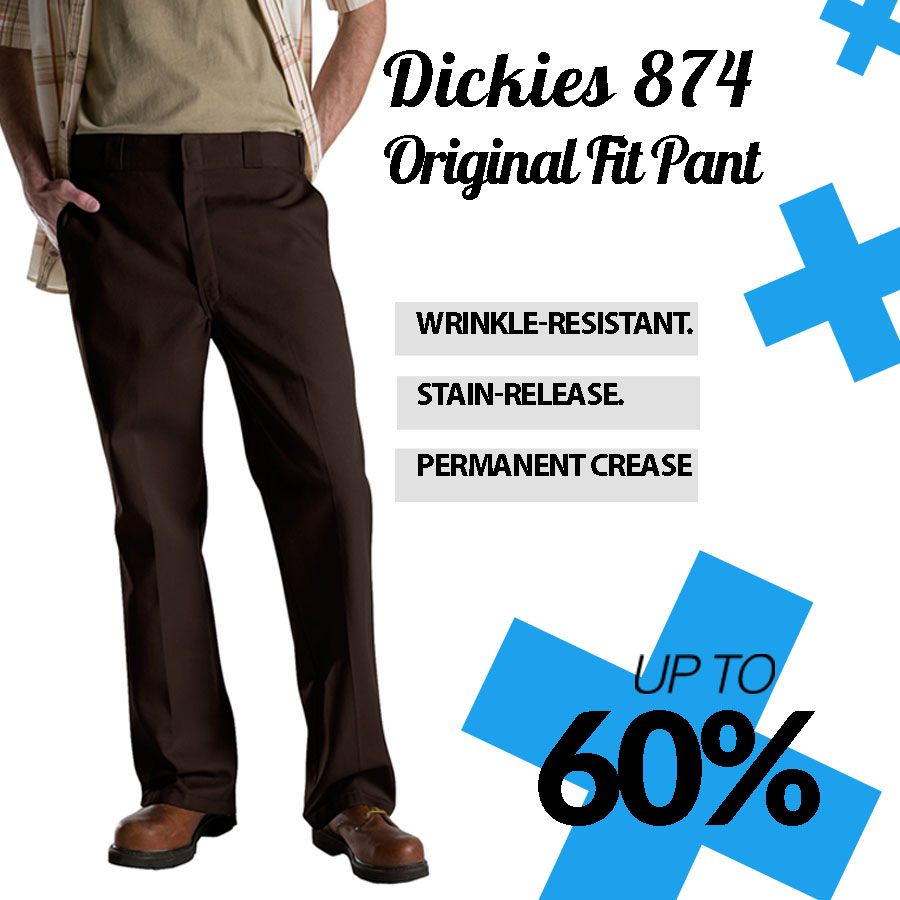 It is really disappointing that you will not be able to wear your favorite work pants enough. If after wearing it 3-4 times, you can wear it no more than you are getting an absolutely wrong and worthless product. Invest your buying time and money in a better product by investing them in
Dickies 874 work pant as Dickies products are supposed to be for life. You love the pant, you are comfortable in it, but unfortunately, it does not last long and you have to say is goodbye. It is the most sorrow experience for clothing and being a rational person you always want to avoid it, so do not waste your resources in worthless apparel and go straight for Dickies 874 work pant and grab it.
Stain Resistant
You are good if you are lucky to get the best pant, which also provides you resistance with stains. It is actually a blessing that you can wear your work pants repeatedly without worrying about washing it. We always recommend those office attires which are washed manageable because they save your precious time being wasted. Now, you have more leisure time to spend while neglecting your favorite activities rather than indulging in washing and drying your clothes.
Wrinkle-Resistant
After washing, ironing your pant is a hectic task and doing it daily to go to work is really irritating and some times it is frustrating. Dickies understood it full and come up with a perfect solution. It created the most awesome pant, which does not get wrinkled easily and you can wear it without spending your precious minutes at ironing your pants. Even you have just washed it,
the stuff or material of the pant makes it easy to iron and let you stop worrying about ironing
your pants. For me, it is a really big deal and I love this feature as I really hate ironing clothes and always looking for options to avoid it.
Permanent Crease
There are some people who always find it difficult to create and manage a pant crease. If you are wondering why it is so important that a pant should have perfect crease then for your info, all the beauty and grace of a formal pant lie in its crease. A badly made crease creates bad impression of badly dressed personality, so you should always be concerned about your pant crease and if you find it difficult to get it, just go for Dickies 874 as it has a permanent crease and you will not face any hassle to create one.
Formal Colors
If you find a work pant perfect and you do not find a variety of formal colors in it then it is
highly disappointing as everybody wants to acquire a couple of its favorite clothes, which they
have to wear daily. Dickies did not neglect this aspect and brought up with long-range of formal
colors, so you can have these amazing pants daily without having the same looks again and
again.
We have covered all the fabulous features of Dickies 874 men's work pant and we are sure that you would give it try once. Otherwise, you would be deprived of an amazing pant experience,
which is available at a wallet-friendly price.
Our Top Trending Blogs